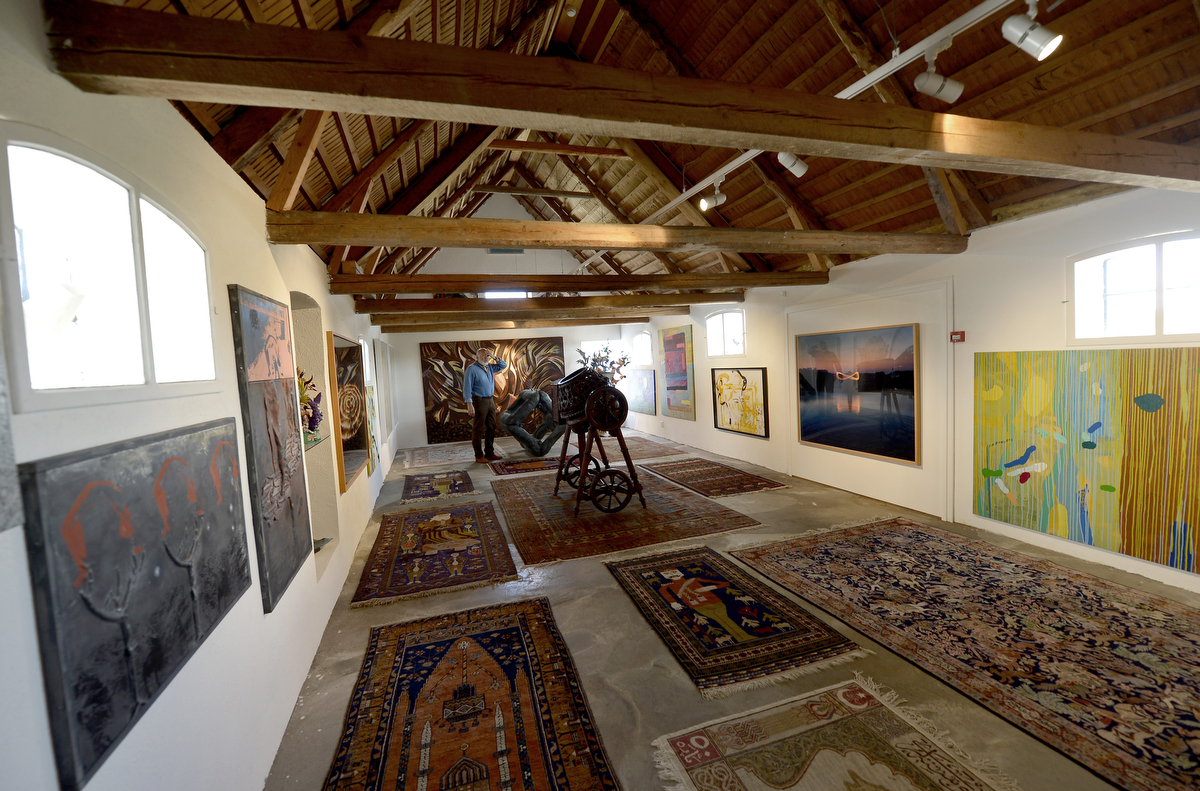 2015 was a tumultuous year for The Olsson Family. First Greger got a minor stroke in the summer and then Ulla got a life threatening brain hemorrhage (ruptured aneurysm) in October which was operated and treated in London during three tough weeks. And then followed rehab in Malta, still going on. But we now hope to be out and over such health problems and are coming back into action again.
In terms of additions to the Collection, 2015 has been a slow year. We have rather spent the year consolidating where we are and making and planning for future activities. Outstanding acquisitions however have been completed. New parts of the Collection have been exposed:
We sold one of our major older works by Troy Brauntuch to Petzel in New York to be included in a historic show of his work at Petzel uptown gallery in November.
Swedish ceramist Carl Harry Stålhane (1920-1990) was highlighted in an auction at Phillips NY. Interesting to note that his distinctive Scandinavian style is getting strong interest internationally as he has been a favorite and even collected by our older Olsson generation – we have some 10 major works of his in the Collection.
Speaking of Phillips, an early surrealistic painting by Elba Damast was sold at Phillips Latin American auction in May with a very good writing to accompany in the catalogue. Also Auktionsverket in Stockholm sold one of her paintings, from her soloshow 1989 at Landskrona Konsthall arranged by us, at the autumns Nutida. Hopefully 2016 will see more of her paintings creating interest in the auctions around the world.
Interesting pictorial carpets of which two from Pakistan (one depicting the travels of Columbus) have been acquired.
With a lot of time to think and contemplate, we have been looking at and also puzzled by the tempo in the international art world of production, marketing and selling of contemporary art. To set the scene, during the last years China has got some 1500 new museums (whereas in the US there have been somewhat 20 to 40 new museums per year in the same period). But what kind of museums? Most of them are politically legitimizing components of far larger real estate schemes in which developers have been vastly enriched through the appropriation of land from the public. As a consequence, most of these museums actually have got very little to show – some of them are closed and empty for long stretches. When actually shown, the contemporary art is of a kind that we hardly would even think about including in our Collection. In China we prefer museums like the Ullen Center for Contemporary Art in Beijing, with a very strong collector background and guiding showing eminent both Chinese and foreign artists of high and exciting caliber.
But also among artists and galleries the tempo have been very high with an enormous production of works flooding galleries and auctions all over the world at increasingly higher prices. Apart from a bit here and there where some artists and works did not sell that quickly, in some cases not at all – the flipping was flopping instead! The start of a bubble bursting?
There is not, in our opinion, very much really new and exciting – or scaring – happening right now. There are no real infants terrible, where are the new Basquiat and Haring? Bjarne Melgaard and even our old friend Wim Delvoye have gone into a more safe middle age with less noice created. Ai Weiwei is of course an exception with his constant challenge of authorities and art conventions – we are though following his fight with commerciality. Will he become a staple commodity, a must, in order for a collection/museum to qualify as international top notch? Time and prices will probably tell.
Instead the art world is trying to shake more out of artists with a short and dramatic life like Ana Mendieta and Gordon Matta-Clark. And reinvent artists that already have had a bit of fame, like Brauntuch. Or continue to support artists that have been around forever doing the same safe and repeated things all the time but still are good sellers – like Fernando Botero and Carl Andre.
We will stay true to our cause – following strong and original creative artists that are constantly renewing their art and (stubbornly) striving for perfection of their skills.
So continue to follow us – we hope that we and our Artists will surprise you also in 2016 – and more years to come!